The Complete On Site Solutions.
Serving the Northwest & Merseyside.
Rapid Hydraulics can offer you the client the complete on site solution.
Our aim is to provide an unprecedented level of service to users of fluid power products in the Automotive, Construction, Materials Handling, Agricultural, Machine tool, Marine and Commercial Manufacturing markets.
We have over 25 years of fluid power experience in the Hydraulic, Filtration and Pneumatic sectors and welcome any challenge! We will endeavour to provide a cost effective solution to your problems and are looking forward to working with you in the following areas :.
Mobile Hydraulic Hose replacement, up to 2" onsite.
Hydraulic Pump and Actuator overhaul, repair and replacement.
Hydraulic Valve overhaul and replacement.
Pneumatic component supply and overhaul.
Hydraulic Fluid Management Programs.
Supply of Hydraulic, Air, Dust and Process filtration.
Industrial Hose and Fittings.
Engineering
Excellent Rates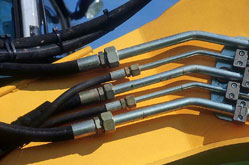 We take pride in our work and ensure that there is maximum attention to detail and minimal disruption as the work is being carried out. We aim to complete all work promptly to schedule, with the utmost attention customer satisfaction throughout.
Contact Us
Tel : 0151 334 4891
Fax : 0151 334 4891
Email : sales@rapidhydraulics.co.uk
Mobile : 0777 1646221
Copyright © 2022 Rapid Hydraulics Services Ltd. All rights reserved.